In business (or life, for that matter), leadership is the most sought after intangible by ownership and management. Your chances of being recruited are exponentially higher if you can point to a track record of strong leadership experience.
Not everyone, however, is a natural born leader. But certain aspects of leadership can be learned. Want proof? Try searching 'leadership' online and see how many results you get.
The truth is you're not going to be prepared to lead an expedition in a foreign land by reading one article. However, you can pick up a few words of wisdom and try to apply them in your career.
Nowhere is leadership more prized than in the world of professional sports. No one ever chastised an athlete for being too much of a leader. In fact, in a sport like hockey, sometimes possessing leadership skills can even keep a player in the league a couple of extra seasons.
Lead by example
The first step to leading is putting in the work. Co-workers and employees always respect those who get the job done. While the squeaky wheel does get the grease, there's something to be said for putting your head down and simply delivering. That was certainly the case for recently retired Tim Duncan of the National Basketball Association's San Antonio Spurs.
Duncan, a five-time NBA champion multiple-time MVP, wasn't known for being vocal or commanding the spotlight. Instead, he let his on-court play do the talking, inspiring his teammates through sheer effort, success, and the manner in which he handled adversity.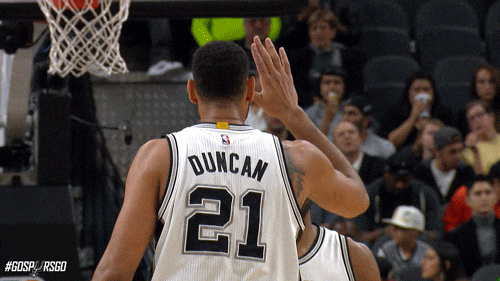 Motivate
Sometimes effort isn't enough. Almost every team has a player or two who needs added encouragement. Whether it's an athlete who is in a slump or an enigmatic player who frustratingly doesn't show up mentally every night – sometimes a leader just has to light a fire under his or her teammates.
New England Patriots quarterback Tom Brady is considered one of the sporting world's most prolific leaders and winners. The four-time Super Bowl champion is constantly surrounded by newcomers to the roster. Yet, he finds a way to get the most out of his teammates. You'd be hard pressed to watch a Patriots game and not see at least one shot of Brady talking up a teammate on the sideline. At the end of the day his results speak for themselves.
Create a 'moment'
Sports are filled with iconic moments where team leaders stepped up and put the spotlight on themselves. Also referred to as 'taking the heat,' a good leader will purposely draw the ire of the media or opponents in order to deflect attention away from the rest of the team. The idea is to be the centre of attention, allowing everyone else to relax and play better.
One of the most celebrated leaders in hockey history is five-time Stanley Cup Champion Mark Messier. The charismatic team captain created one of his own iconic moment in 1994 while with the National Hockey League's New York Rangers.
Following a playoff loss to the New Jersey Devils that put his team on the brink of elimination, Messier told the media that he guaranteed a victory the next game – in New Jersey. What happened? Messier racked up four points in the final period to help his team win and stave off elimination. New York went on to win its first title in 54 years.
One of the most famous examples of a leader thrusting himself into the spotlight occurred during the 1972 Summit Series between Canada and the Soviet Union. Following a poor performance, Phil Esposito conducted a post-game interview with a reporter in which he said that while the team had to be better, they were disappointed by the lack of support from the Canadian public. By saying so, he put the focus (and the media's aim) squarely on him.
Now, no one is asking you to chastise an entire country on national television, but delivering in the clutch to take the pressure off of your co-workers is a great way to show leadership.
Show that you care
A good leader cares about his or her teammates. Others will want to work harder alongside you if they feel like you genuinely care about them.
Jonathan Toews of the Chicago Blackhawks is widely regarded as one of the best leaders in professional sports. Nicknamed Captain Serious, there's nothing that Toews won't do for his teammates.
In addition to being one of the most well-rounded players in hockey, Toews is also constantly aware of what's happening with others in the dressing room. Whether it's helping a teammate grieve for a loved one or pointing out an oversight in a player's game, Toews gets the most out of his team by showing that he cares.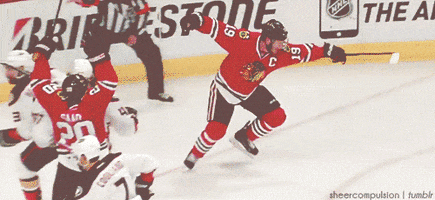 The bottom line
Leaders not only want to succeed; they want others to succeed around them. So while it's normal to focus on your own performance, great leaders can also balance that with wanting to bring everyone else's level up a notch.
About Matthew Ross
Matthew Ross is a communications and marketing professional, and a sports radio host on TSN 690 Radio Montreal. He has contributed to such outlets as MLB.com, TSN.ca, Askmen.com, and The Montreal Gazette. You can follow him @MatthewWords on Twitter.